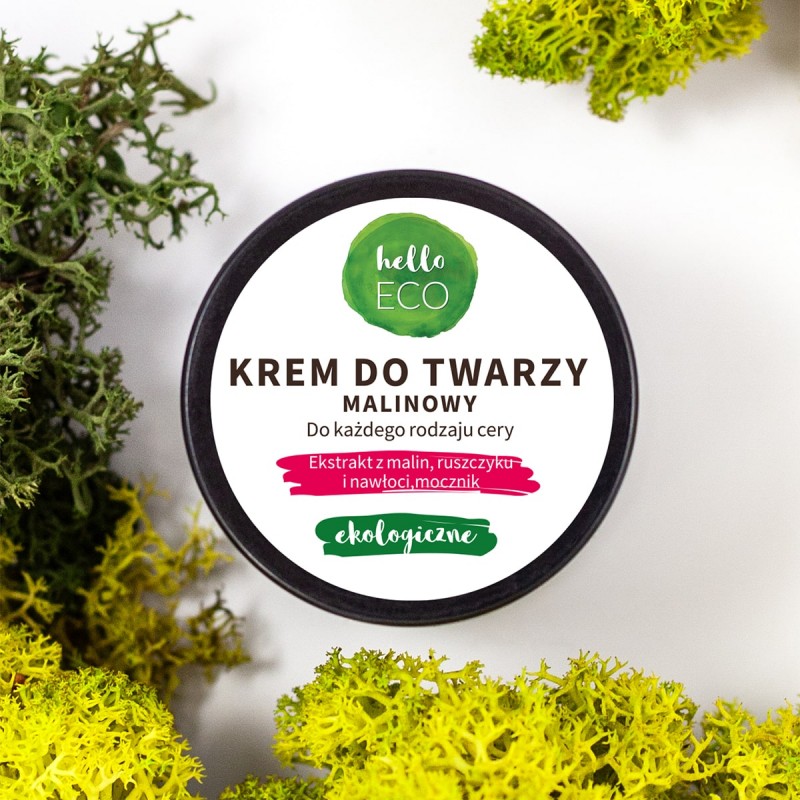 
Raspberry Face Cream for all skin types, Raspberry, ruscus and goldenrod extract, Urea 30 ml
Capacity 30 ml
A light, silky cream with delicate, natural raspberry and rosewood oil fragrance. It helps to moisturize the skin, but also softens and smoothes as it contains urea.
softens and smoothes
moisturizes
tightens the skin increasing firmness
prevents redness
Choose the best capacity for you: 15 and 50 ml when you travel, in your bag or if you simply want to try out this product;-)
Do as you like!
All our ingredients are organic, ecological and certified (e.g. Ecocert). You will only find cold-pressed, unrefined oils and butters in our products.
Raspberry Face Cream for all skin types, Raspberry, ruscus and goldenrod extract, Urea

Capacity: 30 ml

Main ingredients:
raspberry oil (improves firmness)
raspberry CO2 exctract (obtained by extraction with supercritical carbon dioxide; smoothes, moisturizes, regenerates)
lemon, ruscus and goldenrod extracts (anti-redness complex)
rice oil (soothes irritations)
urea (moisturizes)
propanediol (softens and moisturizes; enhances the penetration of active ingredients deep into the skin)
sorbitol (moisturizes; common in fruits: cherries, pears, plums, apples, rowan and seaweed)
vitamin E (firms and nourishes)
natural rosewood oil (soothes irritation and prevents redness)
dehydroacetic acid and benzyl alcohol  (an organic preservative system accepted by ECOCERT)

A short list of ingredients – only 13 ingredients
All our ingredients are organic, ecological and certified (e.g. Ecocert). You will only find cold-pressed, unrefined oils and butters in our products.

For whom:
those who need strong hydration of skin under the eyes
those with delicate, sensitive and dry skin around the eyes
those who need to reduce puffiness, facial lines and wrinkles
How does it work:
moisturizes
soothes dry and irritated skin
prevents wrinkles and facial lines
evens skin tone
reducess puffiness

Description:
A soothing, hydrating eye cream for gentle, dry and sensitive skin under the eyes. The parsley oil packed into this cream will even your skin tone. In addition, the anti-redness complex will reduce puffiness under the eyes, while apricot oil will prevent wrinkles and facial lines. Thanks to D-panthenol, this cream will also regenerate and provide immediate relief for your tired skin.

Usage:
Apply a little amount in the morning and in the evening. Gently massage the cream into the skin under your eyes. Give some extra treatment to those small facial lines that luckily appear on your face when you smile a lot:-) These facial lines indicate that you spend much time in your life smiling, so it's great to have them! Now you only need our cream to hydrate them properly.  
Apply:
in the evening
in the morning

You can store it on a shelf in your bathroom. 
Scent:  A fine parsley scent with a spicy-floral note of rosewood essential oil which relaxes and improves the mood ;-)
Consistency:  A light, silky emulsion in a glass jar.


OUR COMMITMENTS - THIS IS HOW WE WORK:

Packaging:
You will find both glass (bottles) and plastic (PET) in our packaging. We deliberately do not use glass where it is dangerous (e.g. a jar can break and glass particles may get into the product). Glass as such is not environmentally-friendly as it is difficult and expensive to recycle. It also needs to be washed before reuse which requires plenty of water – our precious resource. We are currently searching for a company which produces packaging from recycled materials (so called Bio-PET). If you produce such packaging, please contact us. We are looking for you! Unfortunately, this trend is not yet on the rise in Poland. We are also working hard on plastic packaging and that is why we give a second life to recycled materials. We outsource the production of accessories from RPET (recycled PET bottles). In this way we are taking steps to eliminate plastic by converting it into a new useful product. In a short time you will find such products in our offer so that you will be able to give 'a second life' to plastic ;-)

What can you do yourself?  Please segregate our packaging into a proper waste container. Remove the unused product, separate the packaging from the cap and put it in the bin labelled 'plastic'. In this way you will help us to close the recycling process.

Recycled labels:
Our labels are environmentally friendly as they are consciously made of 100% recycled paper, both Blue Angel and ISEGA certified. We use a water-based adhesive so if they get into water - they will be wet. However, they will dry out and stay in place. Try to keep this in mind and avoid water on the labels.

Conscious shipping:
When preparing our products for shipping, we do not use neither bubble wrap nor other plastic materials. The product you receive from us will be packed in a cardboard box with recycled paper and a linen cord. You can also try to reuse our planet's resources yourself. How? In each package you will find a leaflet with a few recommendations on how to be an eco-conscious consumer ;-)

How do we protect our products (by using organic, friendly and safe preservatives):
In our products you will find either distilled water or plant hydrolates. In this type of products, we need to use preservatives in order to make sure that they are safe for our customers. Our company uses an organic preservative system that is accepted by the ECOCERT organization, which consists of 3 organic acids (dehydroacetic acid, sorbic acid, benzoic acid) and benzyl alcohol.

Best before date :
1 year from production
4 months from the moment you open the product (applies to products with water) or 6 months (applies to products without water)
The products you buy are made no later than three months before shipment
Freshness is our priority so make our products on a regular basis

Production place:
We work with the Jagiellonian Centre of Innovation in Krakow, in the south of Poland. We create our products ourselves, by hand and without any production line. Our production is based in Krakow, in the south of Poland, in the laboratory at Life Science Park

Safety assessment of our products:
All our products have been tested and certified for sale in the area of ​​the European Union. You can check that in ECAS (European Commission Authentication Service). If you develop allergy symptoms after using one of our products, please stop using it.

Data sheet
Aqua

Water

Rubus Idaeus Seed Oil

Natural rosewood oil

Cetearyl Olivate, Sorbitan Olivate

Emulsifier Derived From Plants

Urea

Urea

Oryza Sativa (Rice) Bran Oil

Rice oil

Sorbitol

Sorbitol

Propanediol

Propanediol

Rubus Idaeus Fruit Extract

Raspberry CO2 exctract

Solidago Virgaurea Extract, Potassium Sorbate, Sodium Benzoate

Lemon, ruscus and goldenrod extracts

Tocopherol

Vitamin E

Aniba Rosaeodora Wood Oil, Linalool*, Geraniol*, Benzyl Benzoate*

Natural Rosewood Essential Oil

Benzyl alcohol, Dehydro Acetic acid
No customer reviews for the moment.
Customers who bought this product also bought:
5 other products in the same category: